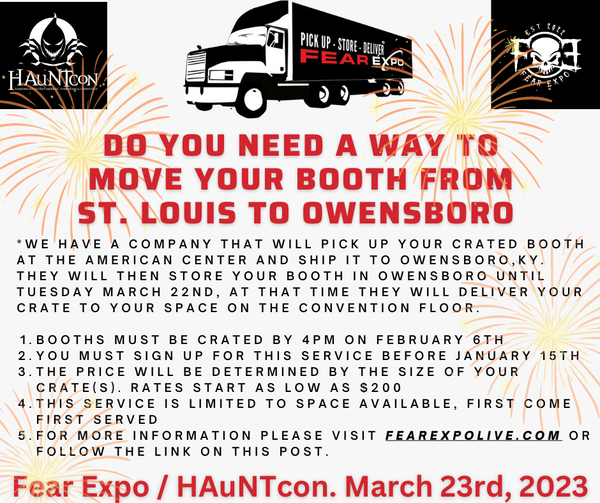 If you're vending at the America's Center in St. Louis in February & Also Fear Expo In March, you may want to consider this new service. Have your booth packed up on Feb 6th to be picked up and taken to Owensboro, KY for the Fear Expo / HAuNTcon show for you.
Details.....
We have a company that will pick up your crated or wrapped palleted booth at the American Center and ship it to Owensboro,KY. They will then store your booth in Owensboro until Tuesday March 22nd, at that time they will deliver your crated or wrapped pallet to your space on the convention floor.
Booths are required to be crated or wrapped by 4pm February 6th
You must sign up for this service before January 15th
The price will be determined by the size of your crate(s) Prices as low as $200 (for 4' by 7' by 7' create or $300 for two 4' wrapped pallets max hight is 7') speciality sized creates will need to be quoted.
This service is limited to space available, first come first served
For more information please fill out contact form below.